Dwellness™ • Bed Transfers
Bed Transfers
Dwellness™ customization for:
Your Patient
Bed Comfort, Safety, and Mobility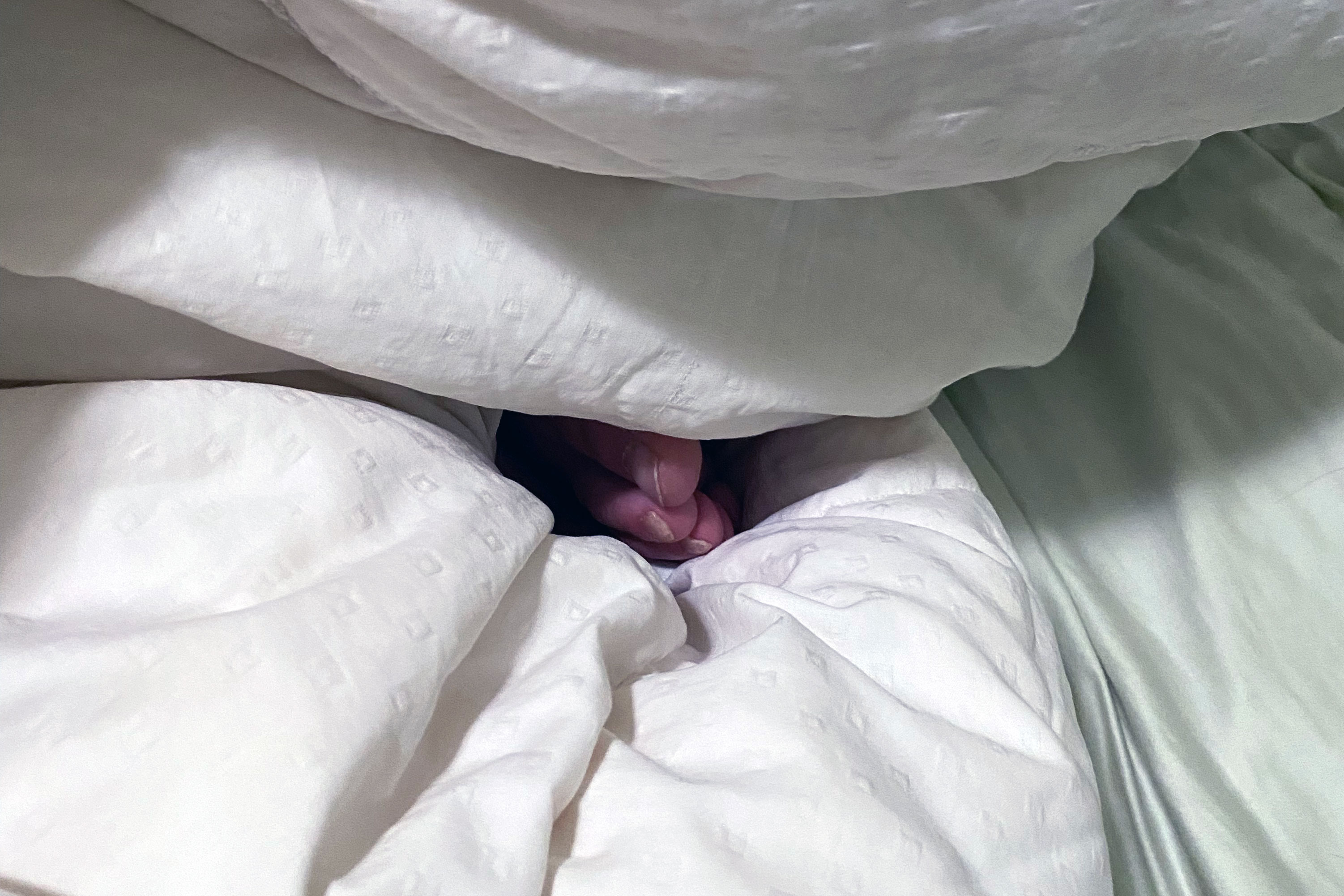 General Principles
[NOTE: Before you undertake this routine, please study and practice the principles of Safe Body Dynamics for your patient's transfers and ambulation.]
→ Breathe! Never hold your breath and bear down when exerting yourself ←
→ Stretching helps prevent injury… stretch before work, and stretch every day ←
→ Keep a low center of gravity during transferring or lifting ←
→ When not transferring or lifting, stand and walk fully erect with abdominals engaged ←
→ Think carefully about each move you make ←
→ Prompt your patient's movements, prepare, and wait for a response before moving yourself ←
→ When in doubt, pause and reconsider your next move ←
→ If your patient decides to go down to the floor, do not resist; gently lower your patient ←
Transfer into the bed
The bed and bedroom is used not only for sleep, but for physical activity
→ CAUTION: Your patient can be in the bedroom alone, whether your patient is sleeping or playing. But check on your patient every few minutes to be sure your patient is safe and does not need help with positioning. See "Bed Comfort, Safety, and Mobility" for positioning instructions. ←
Prepare the bed and bedroom
Clear the walking space on the right (N) side of the bed
Be sure there is room on the bed for your patient to lie down (head toward the South)
Be sure the room is safe, with no hard surfaces exposed
Execute the Safe Walk to get in bed
Approach the bed along the side and turn so your patient is facing the bed
Help your patient place the left foot on the bed, and encourage your patient to "push" so your patient steps up
When your patient is standing on the bed, step up with your patient
Carefully lower your patient onto the front, and rotate to lying on the right side
Use covers that are appropriate for the time of day or intended activity level
→ CAUTION: Be very careful of your patient's leg positions as your patient goes to the down into bed or onto the floor. Your patient's hips are vulnerable, and a position that is out of alignment can dislocate the hips. ←
Bedroom activities
Activities in the bedroom can be for PT, relaxation, and learning fun
If it's not alone-time or time to sleep, participate in activities with your patient in the bedroom
Bedtime comfort
After he is placed in bed for overnight sleep or nap, cover appropriately for the weather

Cold weather

Down comforter
Cover entire body
Tuck in feet
Medium cotton shell on top

Hot weather

Heavy cotton blanket
Cover up to sternum
Tuck in feet

Transitional weather

Change covers overnight
Move covers
Increase or decrease covers

Comfort items for overnight

In front of your patient's face so your patient can manipulate the buttons with the left hand

Winnie the Pooh large talking animal

Behind the head, toucing the neck

Tigger large talking animal

In front of your patient so your patient can push the button and make it talk

[NOTE: After your patient is sound asleep during nighttime shifts, move the drum machine about 3 feet away and turn it off to avoid bumping into it. Move Tigger away too so your patient doesn't activate the voice during the night; it might wake your patient up. Pooh can stay against the neck for comfort.]

Comfort items for napping

Comfort items are the same for napping as for sleeping overnight
For naps, do not move any of the comfort items away as during sleep
As soon as you hear your patient wake up, check that the drum machine is in a safe position

Transfer out of bed

Most often your patient will spend time just sitting in the bed
Usually your patient gets out of bed independently

Keep an eye on your patient so your patient doesn't get in a problematic position
Monitor the bedroom conditions so there are no exposed hard surfaces

If you have to get your patient out of bed
Roll your patient near the edge of the bed
Place your patient's legs over the edge, both feet on the floor
Help your patient sit up at the edge of the bed
If your patient is strong enough, hold your patient's hands and let your patient pull up to standing
If your patient needs help getting to standing, lift your patient under your patient's armpits to standing
If your patient gets out of bed independently
When your patient reaches up, take both of hands
Do not pull on the arms, but just hold steady so your patient knows to initiate standing up
When your patient initiates, tilt a little to your left so your patient can put the left foot forward
Your patient will push with the left leg and come to standing

[NOTE: About 10% of the time, your patient may have a neurological physical "stutter" with the left foot. When your patient initiates the left foot to step and stand up, the left foot does a slight spasm and can't be placed squarely on the floor. Your patient usually moves it back in place under your patient, and immediately tries again. The second time almost always works well and your patient stands up. This does not change anything you should do, except keep a steady hold and encourage your patient to try again.]
Still just holding the hands, allow your patient to bear weight
Transfer your position from in front to in back of your patient
Perform The Safe Walk toward your goal
Limits to floor time
[NOTE: Watch carefully when your patient spends time alone on the floor in the bedroom. Even though there are mats, if your patient sits in one place, then feet and legs will fall asleep. If your patient is crawling around, there will be no limit to the time spent on the floor. If your patient is sitting up in bed, there is no time limit.]
Sitting still on the floor mats

After about 15-20 minutes, get your patient up and out of the bedroom
Optional — put your patient in bed to sit

Crawling around in your patient's room on the mats
Sitting up in bed

The bed is soft enough, there is no time limit
HPCA Input
Dwellness input from HPCA and family caregivers can serve to improve the ongoing support system. Feel free to speak up!