Dwellness™ • Monitor Blood Pressure
Monitor Blood Pressure
Dwellness™ customization for:
Your Patient
Omron Model BP7250 Manual (PDF)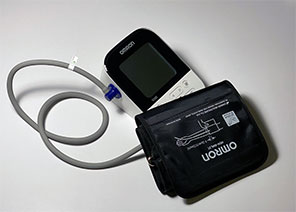 General Principles
[NOTE: Monitor blood pressure regularly. Use the iPad to connect to the monitor via Bluetooth. Synchronize to keep a record of blood pressures. Enter a note in the app when appropriate.]
Routines
As a regular routine, measure blood pressure at least once per HPCA shift
At other times, monitor blood pressure in response to your observations about your patient's condition
Keep a synchronized record in the iPad, but also communicate to nursing staff and other staff via the Staff Communication Log
User manual highlights
[NOTE: Remember to always "narrate" what you are doing before, during, and after any action you take. For example: "Here comes a squeeze on your arm!"]
Be sure your patient is seated and secured in either the Rifton chair or a wheelchair
Allow your patient to rest for 15 minutes before measuring blood pressure
Do not measure blood pressure right after your patient eats or exercises
Blood pressure taken while your patient is lying down will be abnormally low; it's inaccurate
Connectivity
Use the Apple iPad to synchronize with the monitor and keep a record of blood pressures
Each time you use the blood pressure monitor
Open the "Omron Connect" app
Proceed with measuring blood pressure as you normally would
[NOTE: If the app does not synchronize automatically after a few minutes, press the "Sync" button in the upper right corner.]
Sharing
[NOTE: Federal law requires confidentiality with personal medical records. Please become familiar with the Health Insurance Portability and Accountability Act of 1996 (HIPAA) and follow its guidelines when you consider sharing any personal medical information.]
If the iPad is synchronized with the blood pressure monitor, you can transmit the information as needed to doctors, nurses, or other staff
In the Omron Connect app, tap the "History" button
Tap the "Blood Pressure" button
Tap the "Share" button and select PDF format
Tap "Show report" and select mode of transmission
Use only "Save to Files" or "Print"
→ CAUTION: Be aware that email is not private or secure. If you are sharing personal medical information, use a HIPAA secure faxing service, or print the information and deliver by hand or via U.S. mail. ←
HPCA Input
Dwellness input from HPCA and family caregivers can serve to improve the ongoing support system. Feel free to speak up!