Dwellness™ • Home Environment
Home Environment
Dwellness™ customization for:
Your Patient
Input for All Senses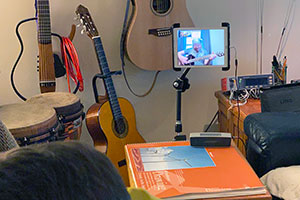 General Principles
Our customized home environment is designed to lower toxicity, facilitate medical procedures (routine and emergent), encourage safe physical activity/mobility, foster cultural activities, build social contacts, provide for caregiver comfort, and maintain infection control.
Low toxicity
→ CAUTION: There are times when you need to use products with chlorine (bleach, scouring powder) for disinfecting in very difficult circumstances. Use these products only very seldom. Use products with chlorine only with plenty of ventilation, and not close to your patient in any way. Rinse thoroughly afterwards. ←
→ CAUTION: Do not use any of the common, chemical disinfecting products such as Lysol cleaners, wipes or any similar products. These can cause serious allergic reactions. ←
Home Environment Factors
House cleaning supplies
For cleaning toilet surfaces (not the bowl)
Clean bathroom floor for minor cleanups
Store on the floor or under the sink — do not set on the counter

For surfaces with which we have frequent contact — no toxicity
Can be used for any surface, including surfaces that come in contact with food
No need to wipe away after spraying
Store on counters or tables, do not set on the floor

Use instead of chlorine-based scouring powder

Both of the above are enzyme liquids
For use on bodily fluid spills, every day on the wheelchair, and other places where you want to remove either a stain or an unpleasant odor
Put the Biokleen product in a good-quality spray bottle for best results

There are some good detergents that are equivalent

For general carpet and upholstery cleaner
Be sure to rinse after shampooing
Home care equipment
Be sure to rinse after applying and removing the carpet shampoo

Vacuum the filter once a month
Wash the filter once every three months
Replace the filter once a year

Ideal year-around humidity is about 50%

Required only in winter months

Adjust for seasonal changes

Extreme cold weather needs more humidifier activity
Ordinary cold weather needs less humidifier activity
Spring and summer (air conditioning)

Replacement parts
Adjust with the Aprilaire controller attached to the furnace

Check the humidity regularly with a humidity measuring device in the living room

Furnace

Use the thermostat in the living room

Generally, the best temperature in the house is around 72°F

During hot months that need cooling, point the metal arm on the furnace vent to "Summer"
Anticipate and adjust for seasonal changes
Change the filter every six months
Auditory (see also Auditory Input for All Senses)
[Refer to "Seizure Monitoring" for more information about potential seizures.]
Since starling can trigger seizures, avoid sudden loud noises when possible
For example, before you cough or sneeze say, "I'm gonna sneeze (or cough)."
If you're turning on a machine (eg: blender or vacuum), announce it first
Home Spaces
Living Room
Three main choices for seating
The main source of recorded music is the Apple Macintosh Mini on the computer table

Hardwired into the Bose Solo 5 sound bar
Use remote control to operate
Computer keyboard (Bluetooth) is kept on the shelf under the table, to avoid damage from food or water spilling on it
If you want to connect a different Bluetooth device, press the Bluetooth button on the remote control and pair your device

Secondary source of recorded music

iPad, connected to Bluetooth speaker that hangs from the back of your patient's Quickie IRIS wheelchair

Live sources of music

Guitars, winds, drums, cymbal, harmonica, etc…
Piano
Keyboards (Yamaha PSR E333)
Your patient plays trumpet

Encourage your patient to buzz lips
If your patient's energy is up, try holding the trumpet to the lips and encourage playing

Whenever your patient is seated next to the caregiver chair, place chucks on the floor under the chair

In case of briefs leaking
In case of food or medicines spilling

Online social connections

Use the iPad, mounted onto the holder on the microphone stand
Use a cable to connect the iPad to the Bose SoundLink Mini
Set the SoundLink Mini to "Aux"
Perform a level test: play music through the speaker and set a high volume level

The clothes for everyday use are located in a small dresser in the living room
Changing location of chairs

If you will be working in the kitchen for a while, place your patient chair just outside the kitchen so you can keep a closer watch while you work
Bedroom
→ CAUTION: As your patient plays, crawls, and climbs alone in the bedroom, there is always a risk that your patient will get into an uncomfortable or unsafe body position. Do a visual check every few minutes. Listen carefully to any sounds your patient makes, being aware of your patient's sounds of stress. If your patient suddenly goes silent, go into the bedroom. ←
→ CAUTION: Even though the bedroom is set up to be safe, there are always risks to leaving your patient alone for too long during playtime. Be sure to listen very carefully to sounds your patient makes in the bedroom. Be sure to do visual check on your patient every few minutes. ←
The bedroom is set up as your patient's safe domain
Your patient loves to kneel on the floor, raise up arms, and tumble forward onto the floor

This provides very good vestibular input
This requires that you keep your ears and eyes on your patient to ensure safety

Safety is the key to your patient using the bedroom alone, with frequent visual checks
Bed

A king-size bed is on the floor, with a low-profile frame holding the box spring
The box spring mattress has a king-size Tempurpedic memory foam overlay

The memory foam overlay helps your patient sleep better
Discourages skin breakdown or "bed sores"

Floor and walls

The entire floor space in the bedroom is lined with SporTime TechnoMat interlocking athletic mats


[NOTE: Any safe athletic mats can be used, but make sure they aren't likely to shift. The interlocking mats are safest.]

The walls next to your patient' bed are lined with thick athletic mats
The edge of your patient's open bedroom door has an athletic mat pressed up against it

Furniture

The "table" is an athletic mat block made for toddlers to climb
Wedges are used in two places, providing extra padding and space for objects

Contents

Avoid hard-surfaced toys and other objects in the bedroom
Avoid any objects with edges, corners, or points that can damage your patient's skin or eyes
Toys should be soft, stuffed animals or padded activities
Toys should be multisensory, such as soft animals that talk or soft activities that talk and interact with your patient
[NOTE: As soon as your patient crawls to the doorway, the rule is that your patient will be helped to stand up and walk to a chair in the living room. See "Rifton Activity Chair Transfers" and "Wheelchair Transfers". He does not crawl anywhere outside of your patient's safe bedroom environment.]
Bathroom
→ CAUTION: Always keep a large bathroom rug that has a non-skid base on the bathroom floor. This provides adequate grip for your patient's stance and yours, and is a certain amount of padding in case he has to go to the floor. ←
→ CAUTION: NEVER MOVE AWAY FROM YOUR PATIENT IN THE BATHROOM. NEVER LEAVE YOUR PATIENT ALONE IN THE BATHROOM. ←
→ CAUTION: When your patient is standing in the bathroom, always stand behind your patient. If you have to reach for something or move sideways, then always keep at least one hand behind your patient. ←
Keep the bathroom stocked with supplies that might be needed for Toileting
Keep the bathroom sensory environment refreshed

Always bag up any soiled briefs and supplies in the bathroom
Dispose of soiled briefs and supplies ONLY in the bathroom — not any other room
Spray surfaces with non-toxic surface sprays
Use pure essential oils to make home air fresheners
When changing briefs, put a few drops of essential oils on the baby wipes
Much of the urine smell is retained by body hair, so be sure to wipe any body hair with the essential oil treated wipes
Entry and ramp
→ CAUTION: In winter, the ramp will get covered in snow and possibly ice. If you are going out — or anticipating someone coming over — use the push broom to sweep off the snow. If there is ice, use Splash Red-Hot De-Icer or Pretreat if you know ice and snow is coming. ←
→ CAUTION: When returning home in snowy/icy weather, be aware that the ramp might be slippery. Always maintain the supply of de-icer handy, and the broom at hand. ←
Entry must have durable rugs for placement of the wheelchair when you come in from messy weather
Take off shoes or boots when you come in, especially in messy weather
HPCA Input
Dwellness input from HPCA and family caregivers can serve to improve the ongoing support system. Feel free to speak up!